Easter morning....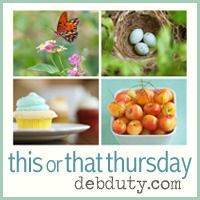 ...was full of sunshine and promise and while the sun decided to go
elsewhere later in the day, it left behind a a glow in our hearts.
We made these nests; they were easy peasy just perfect for
all that is Easter and spring. You can get the recipe
here
.
Still not too old for a good egg hunt, the twins headed outside this year in search of
colourful plastic, along with a new helper. One who thinks she's a smarty pants because she
figured out she can cross the road. And if that wasn't bad enough,she has taught the chickens
how to do it too. At least Eli is smart enough to look both ways before trying to return home.
Last summer I planted some spring pansies at the end of our driveway. After their blooms had faded
away, the Artist decided to chop them down at the knees.
I was ticked.
He has a fondness for chopping.
This is the only bloom that has managed to reappear. She's beautiful, don't you think?
Last week I came home to find he had upgraded Photoshop to a newer version for me.
And so it goes; he cooks, he cleans, he upgrades software and I lose a few pansies in the process.
~Be well friends~