One of the first shrubs we planted was this hydrangea.
And each year since, I've picked up a couple more on sale.
I could
possibly
have an addiction.
Check back in a few years, just to confirm.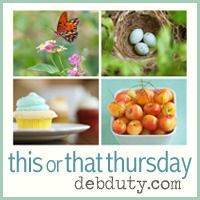 It's been another busy week around the old farmhouse.
We've had a lot of grass to cut and as you can see, it takes a while.
What?
This isn't what they mean by a push mower?
I'm pretty sure I could convince the Artist to build a barn and get us some goats to
mind the grass and without much arm twisting; he's been fixing this thing for weeks. And weeks.
We have a volunteer sunflower growing in our mulch pile. We're pretty sure she was from one of last year's flower heads that I hung on the bird feeder last winter. The birds love to sit in the pine trees and shuttle back and forth to collect seed. She's the beauty in my header photo and she was almost mistaken for a weed. Good thing weeds get neglected around here.
But this isn't her; this is mini-sunflower, standing at about a foot and a half tall next to her and it's the cutest thing I've seen out my kitchen window since the male twin was last out to mow the lawn. And that, my friends was some time ago. See above.
We planted an elderberry sapling from my mom.
(I do call her mom, by the way.)
Apparently, they should be planted in the spring, but I couldn't envision this sapling still being alive once the snow has melted, so we went for broke and planted her, out by the crab apple trees.
My favourite pie in the world is elderberry pie. My Gram used to love picking them and until she lost her baking mojo would make me one for my birthday. I can't wait to have a few of these put away in the deep freeze or my stomach. I'm pretty easy going when it comes to things like that.
If all of these buds come through, I'd say we're going to have a brilliant show of mums in the not too distant future. Mums, moms, mamas, mothers, Momma! Call'em what you'd like, they're too dang pretty to give a hoot.
~Be well friends!~
Also joining: