I'm participating in a brand new photo challenge today called This or That Thursday.
It's hosted by an amazing photographer, Deb Duty. She is truly an inspiration;
I learn so much from viewing her talented photography skills on her beautiful blog,
Deb Duty Photography.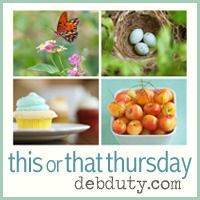 September Sunset
I've decided to push the This or That theme one step further here at Rural Revival and use it as a means to catch up on a little of this and a little of that, that's been happening around the old farmhouse. Just little tidbits that don't seem like much to post about but this city girl learns something new, each and every day, here in the country and now I can share a little more about what's happening in my neck of the woods.
1
. This serene, peaceful sunset disperses a false truth around these parts. Things are far from calm. We are scrambling to prepare for fall, as we still go about our daily routines of work, school, and picture taking. We're missing out on family events in the process and the guilt sticks to my ribs more than I'd like. Living this dream includes making sacrifices, much more than I realized.
2.
I've twice had four of five photos ready for the Sunday Scavenger Hunt photo challenge but just couldn't find that last one. And if I don't have everything ready early Sunday morning, there won't be time to get back to the computer; see 1. Which is a bummer 'cause I love this vintage coke machine, and I've been trying to figure a way to slip this into a post. Mission accomplished.
3. I'm lamenting the fact that I did not eat enough of these this summer. Last year, it was a nightly feast before bedtime. This year, ehm, not so much and I have no idea why. Maybe I could blame it on number 1. But I made pies! As I speak and you read, they're hibernating in the deep freeze until the temps outside match the temps inside of the freezer. Then they're coming home to momma!
4. Speaking of momma, my momma came to visit. Before I delve into this fact further, let me just say that no one, I mean no one around here says momma. But I read it all the ding dang time in blogland and I just love the sound of it, and just because I'm from the near north doesn't mean I can't say it, so what the heck, I am gonna. Momma! ( I can guarantee you she's rolling her eyes right 'bout now.)
So my momma, she came for a visit and brought a new friend for me to play with. I guess she figured that
other girl
and I weren't ever gonna get along. But then she left, my momma that is, and she took my new friend back home with her, said she wanted to sort her out on a couple issues before she moves in to the old farmhouse permanently. I miss this new friend, we got along together, rather swimmingly in fact, but it's just as well because I'd likely just ignore her for the next little while. See number 1.
5. I love it when I go outside and discover one of my girls working hard for a living and for me. I do a little dance and take about a hundred photos, then I blow up the image in Photoshop so I can look at her in fine detail. And then I wonder if she really is one of mine, she seems sort of fuzzy. And then I remember how overwhelming beekeeping is and I shut down my computer. This is just as well, 'cause I got lots of chores outside that need tending. See number 1.
So there's your sweet and lowdown on what's happening at the old farmhouse.
Are you still awake?
~Bee well friends!~