Don't let that fading sunlight fool you, by the time it reached those leaves there was
nothing warm about it. Winter has settled in, it's been deep freeze days in these parts
lately but better late than never I like to say.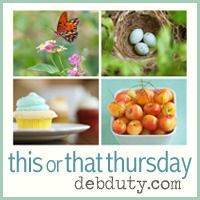 Hello. I've been absent from This or That Thursday for awhile and it's lovely to be back! So what happens when Andrea is down with a cold for two weeks before Christmas? Well the Artist does most of the Christmas shopping, no Christmas baking is done and you get to see some of my Christmas pics in January. Pretty swell, huh?
And how are the chickens you ask? Oh...you didn't? I guess not but I managed to change the subject nonetheless! They are well, very well indeed. They donated 42 eggs in December despite not reaching full laying potential until the last week of December. I'm surprised that the Chantecler is not more popular, especially in areas that experience cold winters. These birds are out, every day, regardless of the weather. Through snow, cold winds, and even rainy days nothing seems to inhibit their desire to forage.
You didn't think I was going to let you off the Christmas hook that easy did you? Aren't these houses sweet? My dear friend Deb at
Loyalist Cottage
painted her own last year and I was all over the poor girl with questions about how to make them. So she sent me this lovely little trio with the caveat that I have them decorated for this Christmas. Houses painted...check! I decided to go with vintage colours that I use to decorate our mudroom each year. After painting them, I covered them with glue then applied glass sparkles, using glow in the dark sparkles on the roofs. The Artist bought styrene sheets, painted them an amber colour and glued them to the inside walls to form windows. He made the doors out of box board, a sturdy kind similar to the thickness of a cereal box. Thank you Deb!
Ember enjoyed her first Christmas. We used a little reverse psychology with her and ignored her interest in the tree and it worked. Once she knew she wasn't going to be chased for playing with the tree her interest quickly feigned; it helped that she had surgery the week before Christmas. It was planned surgery, one Ember in the house is plenty, and fortunately we couldn't have timed it any better. Just a few days before her big day she became very vocal and after a day or so I quickly realized that she was in heat. I have never experienced a cat in heat before and I hope I never do again. Her displays of affection were more than a little off-putting. Good grief, no wonder there are so many cats out there! She recovered nicely and is back to her old self again, albeit a tad more subdued.
So despite a nagging cough, no baking and limited photo taking,
this was one of the best Christmases on record, all because of these three.
~Be well friends!~