This week's This or That Thursday is just that...a mix of this and that.
This morning light makes it incredibly difficult to leave each morning.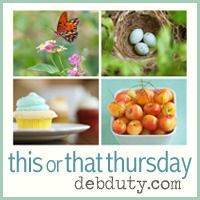 That snow that came around last Friday didn't stick around long
and it wasn't much of a dumping either. How we can go from 30C
one week to a coating of powder the next, however, is more than a little bizarre
but I think
we've seen the last of old man winter in these parts.
And while the magnolia didn't take kindly to his return visit,
this plant has shrugged off the whole ordeal like yesterday's news.
That cat on the other hand, whom I have declared a bully in the past,
decided to pick a fight with a neighbour cat. That part was not surprising.
That it took place on the other side of the road wiped the slate of naivete clean.
She was shooed home by dad and promptly grounded for two days.
This girl loves her chickens.
Those chickens love that girl....
or anyone with opposable thumbs to open the sratch bin.