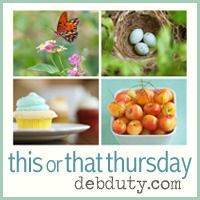 Our crab apple display seemed a little less brilliant this year, and the orchard where I took
these photos
last year still hadn't bloomed as of last week. Seems a bit delayed, I thought to myself. Then I read an article in a local paper about a heavy, damaging frost we had the week before. We have lots of years with a late frost so I never pay them no mind but it turns out that this one hit mostly apple blossoms. Some local area orchards were hit so hard, in fact, that they will have no apples come fall. Not a single fruit. Our food is a precious commodity that is far too often taken for granted and we'll be reminded of that dearly round these parts come fall.
After visiting for a few days, our geese family left but returned for a brief visit again this week. Their comings and goings caused quite a stir around the dinner table as we pondered just how they travel with all those chicks. They couldn't possibly walk from their nest to our pond and back again. Certainly, we would notice a geese family commuting around us? But the alternative seems even less plausible. Do they fly them in on their backs? How would the babies hang on? And, I've never seen the evidence of any fly by day mishaps, which would have to happen on occasion. It's a big mystery here at the old farmhouse!
The other mystery, of course, is the bees. Here they are working away last weekend at what I thought was building out comb and expanding their hive in the additional super I added in preparation for splitting the hive next week but it seems deep inside a plot was developing to usurp the authority of the beekeeper and move to a better hive. See yesterday's post for details of their attempted coup, the outcome of which is still up in the air. No pun intended.
I planted a few bags of tulip and daffodil bulbs last fall in front of the old farmhouse. They add so much colour and beauty to an area that really needed it and I enjoy them every day. I've wondered to myself a few times why it took me three years to get around to planting them and I won't be letting another year go by without adding a few more here and there. Cheap thrills they are.
Speaking of cheap thrills, this one...the hunter of mice and moles around the old farmhouse, the beast who attacks an unsuspecting foot with the alacrity of any lioness in the grasslands, the one we call Ember-licious - gets her thrills, I discovered, by chasing.....butterflies.